This month Gladstone Brookes has chosen to support Claire House children's hospice, nominated by Amy Roberts.
We hope and pray that none of us ever needs the services that Claire House provides, but it's a cause that Amy feels passionate about because Claire was the younger sister of her friend, Jennifer, and she has been fund raising for the hospice for a number of years.
Devastating
When Claire Cain first fell ill in 1987 her family didn't know what was wrong.  Then they were given the devastating diagnosis that 8-year-old Claire had a malignant tumour behind her nose and eye.
Claire's mum and dad had another two children and a fourth on the way when their whole world was turned upside down. There were endless trips to the hospital for chemo-therapy and radiotherapy.  Claire lost the sight of one eye, her hair and most of her teeth, but she kept smiling.
Sadly
Sadly there was to be no cure and Claire died in 1989, a few week's short of her 10th birthday.
Their experiences throughout Claire's illness convinced her mum and dad that a dedicated, supportive environment away from both home and the hospital would have helped massively.  They had received tremendous support from family, friends and hospital staff, but they wanted a place for other families which would help make their child's final days more comfortable and enable all the family to be together.
Care
So Claire House was born and now provides respite, end-of-life and bereavement care for children and young adults with complex medical needs and their families.
But the 10 bed unit costs £6,500 a day to run – a staggering £2.7 million a year.  Our £905 donation from dress down will help, but there's something else you could do as well…..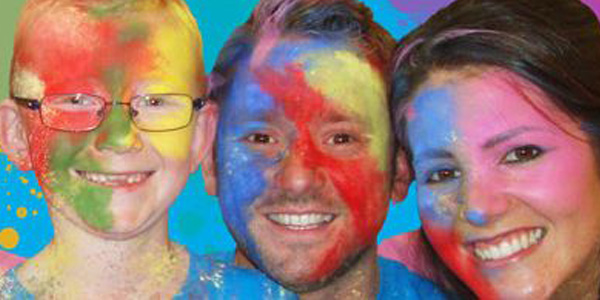 Splash Dash
Amy is encouraging friends and colleagues to take part in a 5km Splash Dash fun run at Sefton Park, Liverpool on Saturday, September 28th to help raise as much money as possible.
Says Amy: "I have known Claire's sister Jen for a long time.  They are an amazing family and Claire House is an amazing place.  I'd love as many people as possible to join Jen and I on the Splash Dash run.  After all, who wouldn't want to run round a park wearing a white tee-shirt while people throw brightly coloured powder at you?  And I'm sure there will be a few drinks afterwards if this tempts people more."
Thank you
Receiving the cheque from Amy Roberts Angella Rawsthorne – Claire House's senior area fund raiser – said: "Thank you so much for your generous donation and support. We need to raise £2.7 million a year to keep going and provide the services we do and we are very grateful to the staff of Gladstone Brookes for helping us in this way."
For more information about Splash Dash go to http://www.splashdash.org.uk/about/ and for more about Claire House go to https://www.clairehouse.org.uk/
If you're feeling even more adventurous you can set yourself the challenge of The Zambezi Blast – white-water rafting down the Zambezi River along the border between Zambia and Zimbabwe.  For more information go to https://www.clairehouse.org.uk/howyoucanhelp/