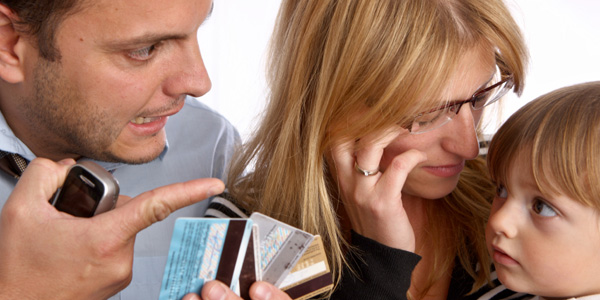 Millions of UK children are living with problem debt worth almost £5 billion and millions more are in families which are struggling to keep their heads above water.
The Debt Trap is a new joint report from The Children's Society and the StepChange debt charity which reveals that 2.4 million children are affected by the deepest of debts and another 5 million are in families living on the financial edge, at constant risk of falling behind in their repayments.
Damage
The report highlights the psychological damage debt inflicts on children who are enduring anxiety for the future and bullying from schoolmates as they are forced to go without daily essentials  because their parents are struggling to make ends meet.
Half say their situation causes arguments within the family and 58% admit to being worried about their family's financial situation.  None out of ten families say they have had to cut back on essentials like food, clothing and heating for their children in order to keep up with repayments.
Payday lenders
More than half of 10 to 17 year olds say they see adverts for payday lenders 'often' or 'all the time, but only one in five said their schools taught them anything about money management and debt.
Many families who are struggling financially believe the only way to make ends meet is by taking out credit, but the report highlights this as the key point where they fall into the debt trap which is almost impossible to get out of.
Failing
More than 30% of families in the trap say their local authorities are failing them when they sought help and 42% said they had been badly or very badly by payday lenders.
Archbishop of York John Sentamu said: "Parents living in poverty face incredibly difficult choices.  What is to come first?  Heating your home or putting food on the table? Many choose to go without themselves so they can provide the basics for their children.  Parents want to make the best choices for their children, but low wages, expensive childcare and inflexible jobs make this very difficult.
"When the monthly struggle to pay the bills becomes too much often families think they have no option but to borrow money to provide the basics for their children.  We need to make sure families living in poverty have somewhere to turn other than usury lenders."
Impact
Matthew Reid, chief executive of The Children's Society, added: "Families are increasingly relying on debt as a way to make ends meet – but we're in danger of ignoring the impact this is having on children, now and in the future.  We cannot allow children to pay the price of debt.
"With little savings to fall back on  it can take just one unexpected setback – like illness or being made redundant – to tip a family over the edge and into a debt trap it could be impossible to escape from."