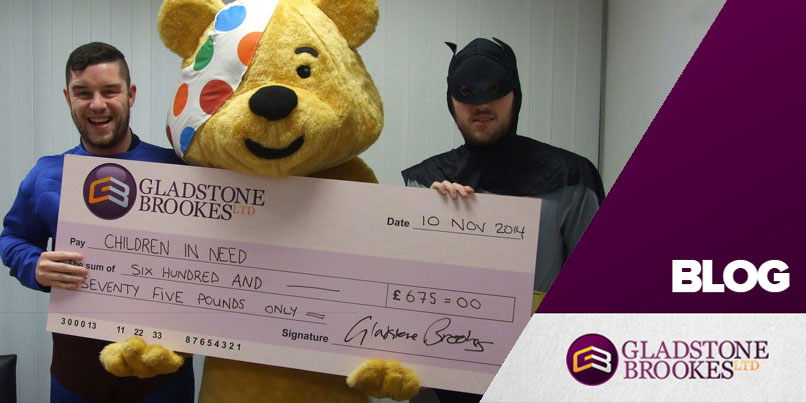 Charity of the month for November is Children In Need and Pudsey Bear paid a visit to the office to receive the dress down cheque of £675 from super-heroes Superman and Batman.
This brings the GB charity total to £7,672 so far this year with December's donation to the Warrington Christmas Toy Appeal still to come.
Millions
Children In Need has become a massive annual event with the BBC telethon raising millions of pounds a year for a wide range of children's charities and organisations.  Last year they managed to raise £31.1 million and seven Warrington charities received a share of the cash.
Warrington Disability Partnership received £59,000 to support sports clubs for disabled children.  Spokeswoman Rachel Hanlon said: "Before the funding there was nowhere for Warrington wheelchair basketball players to play.  Now there is. It's about making a difference to their lives and in the future we're hoping there will be even more opportunities like disabled swimming."
Wolfprint
Warrington Wolves Foundation Wolfprint dance class has also benefitted.  They received £63,756 to support a range of visual, performing arts workshops for children and young people with disabilities including dance, art, rugby, football and tennis sessions.
Papyrus from Bewsey Street said the £98,000 they received was 'vital' to their work of supporting people under 18 who are at risk of suicide.  The money went towards maintaining and extending the confidential Hope Line UK phone service for teenagers who feel they are not coping, turning to self-harm or have suicidal thoughts.
Chief executive Ged Flynn said: "We have been able to extend our telephone helpline hours and provide additional resources to respond with support and advice to the increasing number of textr and e-mail requests for help from young people."
Buddy-Up
Warrington Youth Club's Buddy-Up project is designed to build confidence and self esteem for disabled young people, offering regular social activities with the support of their peers.  They received £87,000 from Children In Need and a spokesman said: "The majority of people that use Buddy Up have little independence and if they socialise they have to be supported by an adult.  Buddy Up allows them to socialise with their peers and access a variety of facilities just like any other young person."
Bringing fun back into the lives of 40 disadvantaged youngsters is how The Relationships Centre, based in Sankey Street, have used their £87,000 award.  The centre provides 'fun and innovative life experiences' for children who have 'very few fun memories.'
Abuse
Women's Aid, who work with families affected by domestic abuse, received £33,000.  Their spokesman said: "Children are guided and have their awareness raised of what behaviour is acceptable and what is not.  It's all about equipping children to form better relationships with their lives, both now and in the future."
Home-Start who offer support and friendship to Warrington families in need received more than £29,000 to help them carry on with their work.  They recruit and train volunteers, who are parents themselves, to offer friendship, practical help and support to families with young children.
Finally, Cheshire Down's Syndrome Support Group has been going from strength to strength since receiving their £12,000 award.  The group provides a support network for parents and carers of children with Down's Syndrome, works to increase awareness of the condition and tries to unlock the potential of children through best practice in training and education.