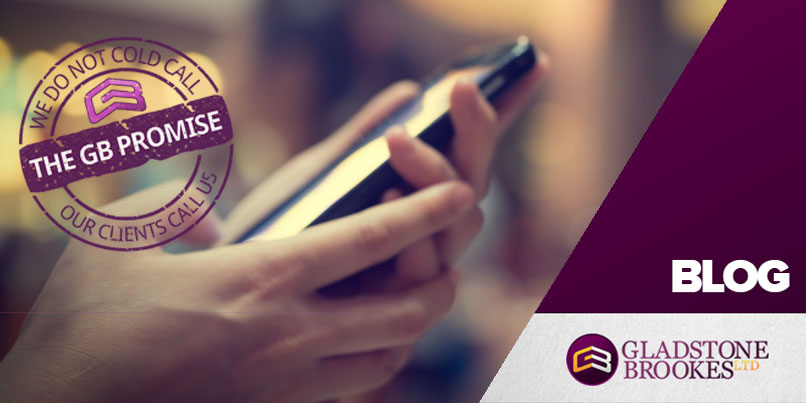 Gladstone Brookes is backing moves by a government task force to combat 'out of control' nuisance claims totalling an estimated 1 billion calls a year.
As a company, we operate the Gladstone Brookes Promise which states we never cold call potential clients – ever.  All of our business comes in response to our advertising in the press and media, or by word of mouth.
Unwanted
But the government's new Nuisance Calls Task Force estimates 85% of the UK population receives at least one unwanted call a month.
The task force has now called for companies breaking the rules to be fined £½ million and for a director in each firm to be tasked with making sure householders are not harassed by unwanted phone calls and texts.
It is also recommending that information held on databases about the public should be deleted after six months, even consumers have ticked the consent box when buying goods or services.
Breaking the law
Task force chairman, Richard Lloyd of Which?, says many British firms are 'breaking the law' and contacting people who have opted out of receiving direct marketing calls.
He claims because the law is not being enforced properly, the trade in personal data which makes nuisance calls possible is 'out of control.'
"The market in personal data needs properly investigating and sorting out," he adds.
Complained
Between April and June of this year, no less than 40,000 people complained to the Information Commissioner about unwanted live or automated calls to their phones.
Says Mr Lloyd: "We want to see businesses with good reputations, that aren't keeping a close enough eye on this, make sure there is someone senior on their board who will be called to account if these nuisance calls are being generated by that business activity."
Report
The 35 page task force report to Culture and Communications minister Ed Vaizey says: "The necessary changes must be driven from the top level.  Senior executives and non-executive directors must understand that nuisance marketing is a serious issue and failing to address it leaves the door open to reputational damage as well as regulatory action."
Ed Vaizey commented: "For too long nuisance calls have plagued consumers, often at very inconvenient times of the day and, in some cases, leaving vulnerable people like the elderly too scared to answer the phone.
That's why we're determined  to tackle this scourge through the first ever nuisance calls action plan. We've already made progress, including making it easier for Ofcom  to share information with the Information Commissioners Office (ICO) about companies breaking the rules and we're currently looking at lowering or removing the legal threshold before firms could be hit with fines of up to £½ million."