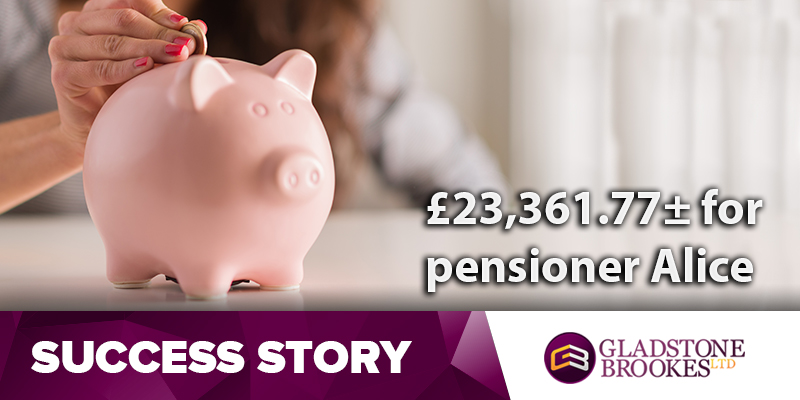 Pensioner Alice Jones couldn't believe her eyes when she opened the letter from Gladstone Brookes which told her she would be getting back over £23,000± from Lloyds Bank for mis-sold PPI.
"I thought I'd won the lottery," she said. "It rocked me right back on my heels. I've never had money like this before!"
Dreadful
Alice wasn't sure whether or not she had PPI attached to a series of Lloyds loans and a Barclaycard. But, after a dreadful run of luck in 2014, she decided she would give it a go and see if there was anything to come back.
"Last year was the worst year of my life," she said. "I look after my dad and he fell ill. Then I was ill myself, but, worst of all, I lost my aunt who was very dear to me. It was a horrible time – one thing after another."
Change
Hoping for a change of luck in 2015, Alice decided to see if she had PPI attached to any of the financial agreements she had taken out in the past.
"Years ago, when I first got a house, I started taking out loans for different things and they accumulated over the years. I wasn't sure whether I'd taken PPI on any of them, but when I saw the Gladstone Brookes advert on TV I thought I'd give it a try," she said.
Service
"The service they have given me was first class. It was eight weeks exactly from the day I put my forms into hearing that the bank was going to pay out. I can't thank everyone enough.
"I'm still in shock with the amount of money I'm getting back. This sort of thing never happens to me. I'm just going to leave it in the bank for now, so I can sit back and relax," she added.
Alice received a total of £23,361.77± for five Lloyds loans, but the good times may not be over yet as she has another eight claims still awaiting a decision.