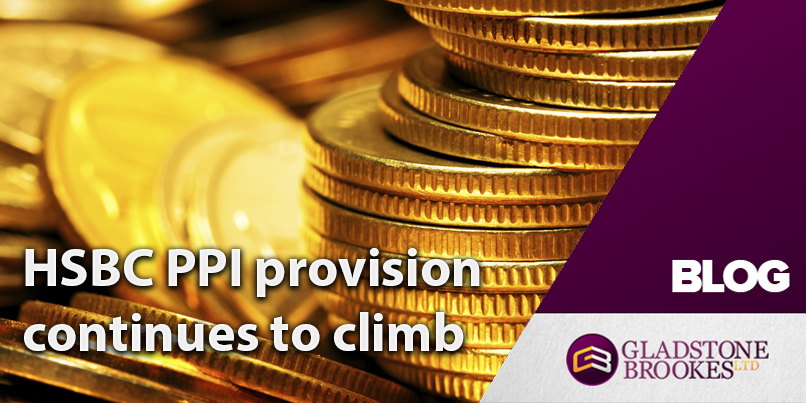 HSBC has announced an additional £58 million to its PPI provision 'reflecting higher than expected levels of inbound complaints.'
Their half year report adds that they expect a further 300,000 complaints in future, but that figure did not include potential new claims generated by the Plevin case of 2014.
This landmark decision from the Supreme Court held that a client left unaware of large commissions made on the sale of their policy had been treated unfairly and could therefore be due for compensation.
Future claims
Both the Financial Conduct Authority (FCA) and Financial Ombudsman Service (FOS) are both examining the Supreme Court decision and implications of possible future claims.
It has been estimated the mis-selling could involve up to £33 billion in compensation.
Profits
HSBC's pre-tax profit of £8.7 billion is higher than expected, up by 10% in the first half of the year, aided by the sale of its Brazilian operation to Banco Bradesco for £3.3 billion.
The group plans to continue cutting costs by cutting 50,000 jobs from its 268,500 world-wide workforce.
Challenging
Commenting on the interim figures, group chairman Douglas Flint, said: "The environment for banking remains challenging.  Regulatory workloads have never been higher."
In the past year, HSBC has upheld 73% of the PPI complaints made to the bank, with an average payout of £2,595.  Both figures are expected to remain broadly similar in the immediate future.
Fined
The bank has set aside £7.3 billion for settlements in connection with legal matters.  Last year they were fined £2.6 billion, along with five other banks, by the UK and US regulators over attempted manipulation of foreign exchange rates.
HSBC is also involved in a number of on-going investigations and court cases including American real estate deals, money laundering, tax evasion involving their Swiss bank and LIBOR.
Move
It has been considering moving its global headquarters out of London – possibly back to Hong Kong from where it moved to London in the 1980s with the takeover of Midland Bank.
The report gave no clues as to which way the decision is likely to go other, just confirming  that a decision is expected by the end of the year.