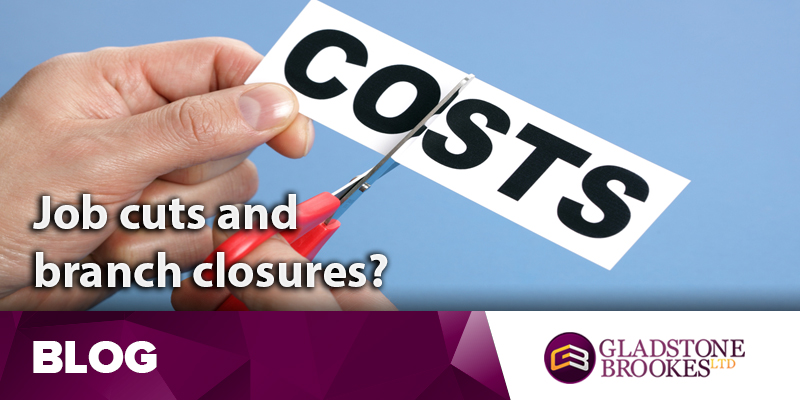 Royal Bank Of Scotland (RBS) is expected to announce a raft of cost cutting measures to save £800 million when it delivers its annual figures later this month.
An insider has told national media that the bank – which hasn't made a profit for 9 years – will cut costs by closing branches and shedding jobs.
Speculation
There has been speculation that up to 15,000 jobs may be cut, on top of the 10,000 already lost in 2016, but RBS has refused to confirm any figures.
Times reporter Aimee Donnellan claims: "Royal Bank of Scotland will be forced to slash up to 15,000 jobs as it scrambles to cut costs in the face of a ninth consecutive year of losses.
"Further branch closures and yet more redundancies at its main offices in Edinburgh and London are expected to form part of a new cost-cutting plan."
Workforce
RBS has already cut its workforce from 226,400 globally in 2007 to 82,500 last year.  It has also pulled back from many of its international operations and cut down its investment banking operation.
One un-named analyst said: ""There's not much left for RBS to do. The only way they get more cost out is to cut jobs. Every £1 billion of cost that you have to take out of a UK bank equates to roughly 10,000 jobs. That's now a pretty clear formula."
£50 billion
The bank was bailed out by the Labour government in 2008 with £46.5 billion of taxpayers' money and has lost a further £50 billion in the intervening nine years.
Predictions for the latest losses, which will be announced on February 24th, vary from £2.3 billion to as much as £5 billion.
Shares
The bank's shares are currently hovering around the 228.9p level, less than half of the price they need to be for the government to recoup the taxpayers' stake.
But Chancellor Philip Hammond has put a hold on plans to try to re-privatise the bank because of two major hurdles.
Williams & Glyn
RBS must sell 315 branches of its Williams & Glyn bank by the end of this year to comply with EC regulations covering the 2008 bail out.  A previous attempt to float the brand as a separate bank was abandoned.
Both Santander and CYBG (formerly Clydesdale Yorkshire) have shown interest in an outright purchase, but negotiations have been slow and so far inconclusive.
Huge fine
The second problem is the threat of a huge fine from American regulators – estimated as being between $12 billion and $ 20 billion.
RBS is one of a number of world-wide banks accused of selling worthless mortgage backed securities in America before the financial crash of 2008.  The securities involved the repackaging of sub prime mortgages and selling them on as investment opportunities.
Many of the other banks have already settled with the US Department of Justice, with Deutsche Bank paying out $7.2 billion and Credit Suisse offering $5.3 billion. RBS was involved in the selling of $32.1 billion worth of securities – more than those two banks combined.