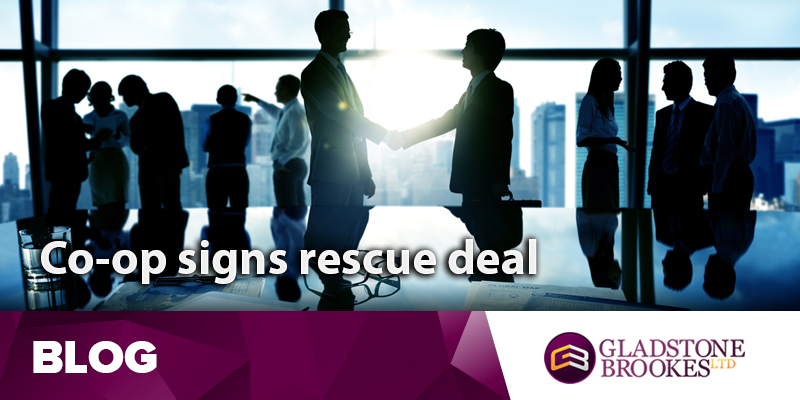 The Co-op Bank has signed a £700 million rescue package to prevent it being wound up under Bank Of England regulations.
The Manchester based bank has signed a deal with its existing investors who have agreed to swap their debt for a stake in the bank.
In a statement the bank said: "The board believes that the proposal will enable the Bank to thrive as a stand-alone entity, with values and ethics and strong customer service continuing at the heart of its business."
Approved
The deal has been approved by the Prudential Regulation Authority (PRA), accepting that it returned the Co-op to a firmer footing.
The PRA is a division of the Bank Of England as is responsible for supervising the operation of the UK's banks and insurance companies.
A spokesman said: "Supervisors will remain closely engaged with the bank while the actions announced today are taken forward. Implementation is subject to certain regulatory approvals."
Sale
The Co-op put itself up for sale in February after it became clear they did not have enough capital to meet Bank Of England requirements.
A number of rivals – including Santander, Virgin Money and Banco Sabadell – expressed an interest, but all eventually walked away with no deal being made.
Resolution process
If the re-investment rescue package had not been agreed the next step would have been for the Bank Of England to step in with a 'resolution process' to wind up the Co-op's operations.
But now the bank's investors – the American hedge funds of Blue Mountain Capital Management, Cyrus Capital Partners, Golden Tree Asset Management and Silver Point – have agreed to write off the £443 million they are owed and to sell £250 million worth of new shares.
Pension
One of the biggest stumbling blocks to any previous deal – the bank's pension scheme – has also been resolved.
The investors will inject £100 million into the scheme over the next 10 years to allow its separation from the overall Co-operative Group pension scheme.
Cut
The debt for equity deal has cut the Co-operative Group's stake in the bank from 20% to just 1%, but it is understood it will continue to trade under the same name.
However, the existing relationship between bank and group, including promotion of the bank's services to the wider business 'will naturally fall away and come to an end in 2020.'