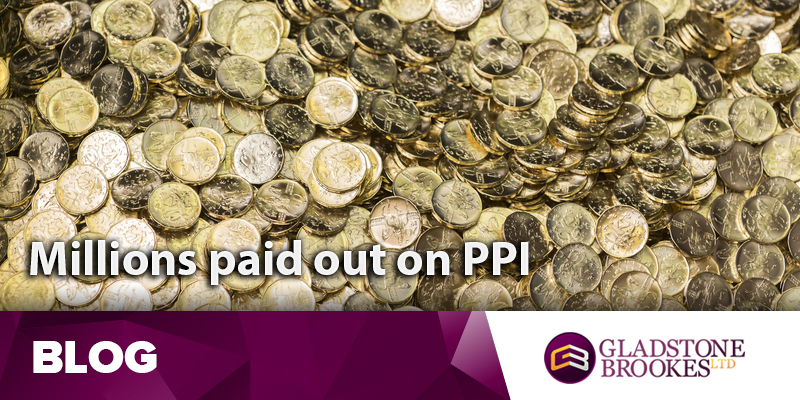 Gladstone Brookes' record PPI payout to a single client of more than £163,000 is just the latest of many millions Britain's banking industry has paid out since January 2011.
The latest Financial Conduct Authority (FCA) figures show PPI payouts from the UK's lenders continuing to their resurgence in 2017 with £324.8 million being paid out in October, taking the overall total to £28.8 billion.
Exceptional
While our average PPI payout is £1,700±, Gladstone Brookes has a history of exceptional claims going back to the £96,000 recovered for a businesswoman on her Barclaycard in 2012.
That success, still our biggest payout on a single claim, remained as a record until 2015 when Chris from the Lake District notched up nine successful claims against First Direct, MBNA, Marbles, Mint and Bank of Scotland.  He ended up with a grand total of £141,500 from PPI mis-sold on a series of loans and credit cards.
Latest record
The record is now held by West Country company director Richard whose claims were only started after the FCA announced a claims deadline of August 29th 2019.
He made a series of claims against Halifax, Lloyds, MBNA, Marks & Spencer and Capital One and 'promptly forgot about them' because he didn't expect to get anything back.
First success
His first success was a cheque for more than £59,000 from MBNA and within a couple of weeks received more than £104,000 more from six other complaints.
"I was staggered by the amount I got back," he said.
Lottery
But it's not just the big sums which mean a lot to the client.  When Margo from Scotland got back just over £7,000 she was ecstatic. "I felt like I'd won the lottery," she said.
For some even £1,400 is a god-send, as it was for Denise who said: "It couldn't have come at a better time.  My dad hasn't been well and needed some money which I was able to give him.  It meant a lot to be able to do that."
Surge
Banks have seen a surge in new claims since the 2019 PPI deadline was announced.  The FCA says the number of new complaints is now at its highest level for three years with a 24% increase in the last six months alone.
But there are still millions of potential claims out there.  An estimated 12 million policies have been processed by the financial industry, but the FCA have estimated there were somewhere between 45 million and 60 million sold over the last two decades.
Arnie
They are so concerned that consumers don't miss the deadline that they are running a £42 million consumer awareness campaign fronted by an animatronic Arnold Schwarzenegger who urges potential claimants 'Do It Now!'
FCA chief executive Andrew Bailey said: "Our campaign aims to cut through the noise on PPI. We want to encourage people to decide whether to find out if they had PPI and whether to complain or not.  Our message, and Arnie's, is 'do it now' and I urge people to make a decision before the deadline on 29 August 2019."
Gladstone Brookes has recovered more than £920 million± for more than 565,000 clients since 2007