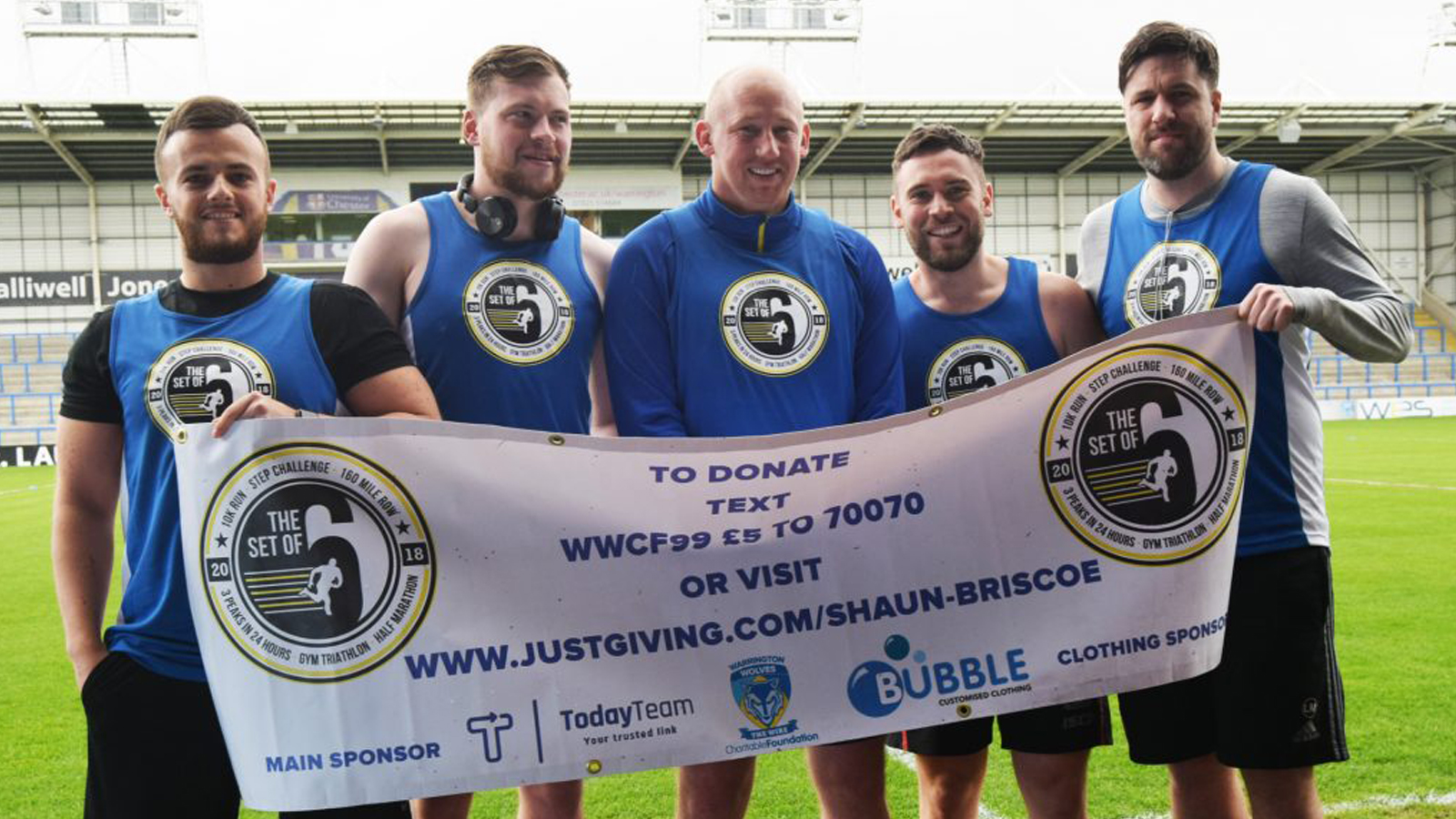 Just before tackling the last leg of the challenge at the Halliwell Jones Stadium (from left to right):
Luke, Wil Maudsley, Shaun Briscoe, Craig Thomason and Peter Hanlon
If you're looking for some light exercise to try and get yourself a little fitter, following Luke Buckley-Mellor is probably not the way to go because he likes his challenges a little…extreme.
How extreme?
Every stadium
He joined four others – Wil Maudsley, Shaun Briscoe, Craig Thomason, Peter Hanlon – in an attempt to run up and down every single step of the 11 Super League stadiums in just 12 hours to raise money for the Warrington Wolves Charitable Foundation.
Before he started he could only guess at how many there might be, but the step meter he took with him recorded 30,041 steps – a total distance of 26.79 kilometres!
Early start
The group made an early start on the east coast at Hull's ground and then, in order, ran every step of the stadiums at Castleford, Wakefield, Leeds, Huddersfield, Salford, Wigan, St Helens, Widnes before finishing at Warrington's Halliwell-Jones Stadium.
The run was one of the Set Of Six challenges dreamed up by the Wolves Foundation Rugby League Manager Shaun Briscoe to raise £10,000 for the Foundation and the charitable work it does in the community.
Challenges
Said Shaun: "In previous years I have raised money for various charities via varying challenges. This year I will try and complete 6 challenges with 5 other people that want to challenge themselves in different ways.
"It's fantastic for a company like Gladstone Brookes to support us on the Set Of Six, not just financially but by physically taking part.
"The reason for the challenge is not just to raise money for the Foundation but to try and encourage people to push themselves out of their comfort zones whilst being part of a team."
Patron
Gladstone Brookes has been a patron of the Foundation for more than five years and staff from the company have been involved in helping Foundation staff to deliver a wide range of sporting and community activities, especially for children with special educational needs.
General manager Leon Moye said: "We are proud of our long-standing relationship as patrons of the Foundation and Shaun's Set Of Six presented us with a different way of showing our support. We will be collecting money along the way in the various challenges, but we have also donated £1,000 to get things off to a good start."
I'd do it all again
And what did Luke think after completing his 30,041 steps?
He said: "I must be mad, but I'd do it all again, but perhaps with a bit more training beforehand. It was a great day, meeting all the old rugby league players at the various grounds along the way and taking part in what was a great team event."
Other challenges
The Step Challenge is over, but there are five other events going on throughout the summer – a 160 mile row in 24 hours, the National Three Peaks in 24 hours (climbing Ben Nevis, Scafell and Snowdon), a Gym Triathlon (swim 1.5km, cycle 40km and then run 10km) and finally running the 13.1 miles of the English Half Marathon.
Anyone wanting to show their support can contribute via the Just Giving page https://www.justgiving.com/fundraising/shaun-briscoe
"I must be mad, but I'd do it all again, but perhaps with a bit more training beforehand. It was a great day, meeting all the old rugby league players at the various grounds along the way and taking part in what was a great team event"