The figures surrounding what is probably the biggest ever financial scandal ever to hit the UK are truly mind-boggling.
They're so big that we don't really understand them. They're just these massive numbers that people bang on about all the time – way too big to have any everyday meaning for us.
Who is responsible?
The New City Agenda think tank believes more than £46 billion has been set aside to pay for successful PPI claims, of which £32.2 billion has already been paid out. But who is responsible for all these billions?
Well, responsibility rests mainly with the high street banks who presided over PPI mis-selling of epic proportions for more than two decades.
Six banks
The reality is that virtually every financial firm in the land mis-sold the insurance at one stage or another, but the lion's share can be laid at the door of six banks.
The latest information available shows that those six are responsible for setting aside a total of £37.5 billion to pay out successful claims. They are: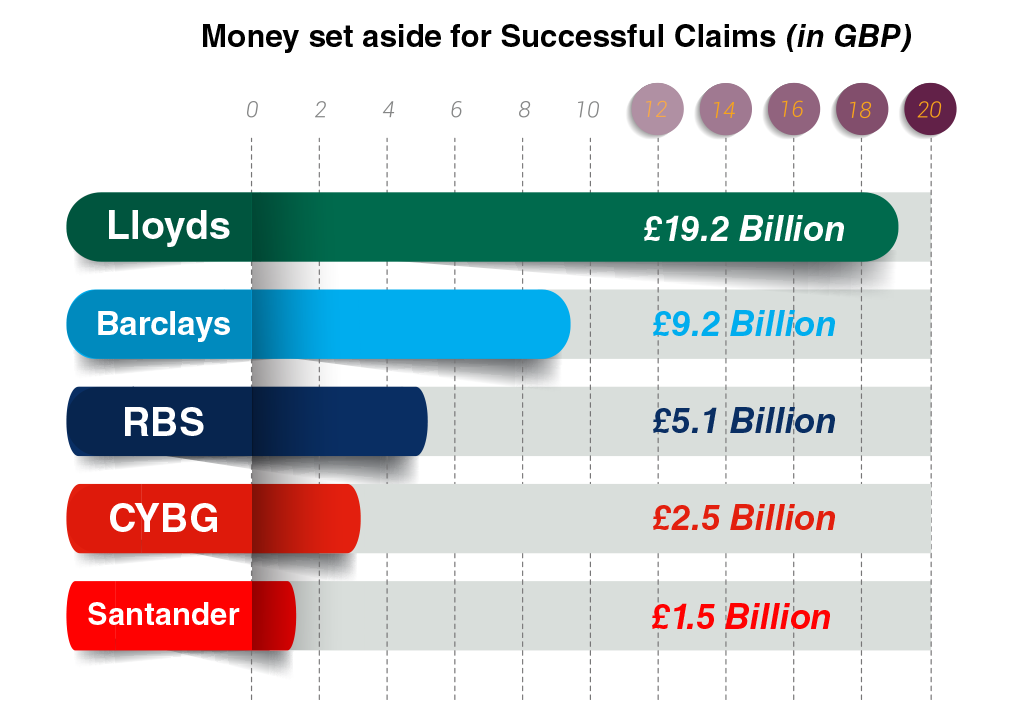 Already paid
Official figures from the Financial Conduct Authority (FCA) reveal that £32.2 billion has already been paid out since January 2011, but experts believe there are billions more to follow with the number of new claims soaring as people try to beat next year's claims deadline.
The banks are still receiving thousands of new claims a week, forcing them to add more money to their contingency funds. In its annual report, LBG said it was getting 13,000 a week and expected that to continue until the deadline date of August 29th 2019. In its own annual report, Barclays said claim volumes had risen by 16% as consumers rushed to beat the deadline.
Size
As well as the volumes of cash, the size of the PPI scandal has been surprising for many.
Manpower estimates it has created more than 20,000 jobs with financial firms having to deal with an avalanche of claims and the Financial Ombudsman Service became so overwhelmed with the number of appeals they were asked to deal with that they had to hire 2,000 new adjudicators and 50 new ombudsmen to clear the backlog.
Economy
PPI compensation has pumped money back into the economy which had been sucked out in premiums for mis-sold policies.
Gladstone Brookes' average refund per claim is £1,600, with many clients having more than one successful claim. Research through our Money Memories programme revealed the top five things clients used their compensation for were:
Holidays
Paying bills and clearing debts
Saving for a rainy day
Home improvements
5Buying a new car
What would £32.2 billion buy you?
In January this year the average price of a semi-detached home in the UK was £225,674 – so you could buy more than 142,600 of them or, alternatively, build 531,200 new social homes.
If you were interested in a holiday you could send the entire population of Manchester on around the world cruise in a suite aboard the Queen Mary 2.
Hospitals
Spent on the NHS it would build 64 new flagship hospitals or pay for 5.3 million hip replacements. In education, it would build 1,280 new secondary schools, pay the salaries of 704,000 teachers for a year or give free school meals to 173 million children.
It could also go a long way to solving the UK's housing crisis by building 531,200 new affordable social homes.
"Finally, if you were feeling lucky, it could pay out the record £167 EuroMillions jackpot 16 times over!"