Bradley Gleave is a man with a mission and the drive to take him half way round the world to Tokyo in 2020 to represent Britain in the Paralympics.
Bradley, from Penketh in Warrington, has cerebral palsy but has absolutely no intention of letting his disability hold him back from achieving his dreams.
Britain's strongest man
He is already Britain's strongest man with cerebral palsy, an accolade he won in 2016, but since then he has decided he wants to spreads his wings and excel in a different area.
He said: "I am raising the bar and have stepped away from strongman competitions.
Wheelchair racing
"I started wheelchair racing in October last year and enjoyed it so much that I was told by the British Cycling Association that, with the right support and training, I could have the potential to compete at the Paralympic Games in Tokyo in 2020."
After being invited for trials at the Manchester Velodrome he was told by officials that his score was that expected of people who had been in the sport for a while and that they really wanted to see him again.
Lit the fire
It was that reaction which lit the fire on Bradley's ambition to race in Tokyo. He said: "I believe there are no limitations to the world – you can either sit on your backside and give up or you can choose to push forward, but it's only you who can do that.
"You only get one life – you have to follow your dreams. Anything is possible, it just depends on how much you want it and what you're willing to do to get there."
Friends
Emma Elvin has been friends with Bradley all her life – they grew up together – and when she heard he was trying to raise £8,000 to buy a carbon fibre racing bike so he can compete in Tokyo she nominated him as our charity of the month for October.
She said: "He's a very inspirational man and he has never let his disability get in his way. He worked hard to win his strongest man title and is now just as determined that he will make it to the Paralympics.
Custom racing bike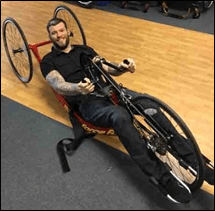 "But to get there he needs to raise the money to buy the special bike he is having made in America. He has already raised more than £4,400 and our £400 donation takes him that much closer to his total."
Receiving our cheque from Emma, Bradley said: "I'm speechless. Thanks to the staff of Gladstone Brookes for giving me such a great boost.
"What I'm trying to achieve isn't cheap and at the start you need help from people around you. Thanks Emma for nominating me for this great helping hand."