Huge jump in PPI payouts
Figures released by the Financial Conduct Authority (FCA) show a massive £72.7 million increase in the amount of PPI compensation paid out in January over the figure for December last year.
⚠️ With the PPI Deadline less than a year away, now would be the perfect time to check!
December's payout was £261.3 million, but the first month of 2019 saw the figure leap to £334 million, maintaining the average refund at more than £⅓ billion a month over the last year.
The overall figure for PPI compensation paid since January 2011 has now breached the £34 billion barrier with the running total standing at £34.2 billion.
Britain's lenders continue to receive thousands of new mis-selling claims a week and if the payout level continues to rise at its current rate another £2.3 billion will be paid out before the August PPI claims deadline kicks in.
GB monthly payout
While the average PPI claim refund is said to be around £1,700 some Gladstone Brookes clients receive considerably more than that. The latest monthly Top 20 payouts added up to more than £660,000.
Top of the list was an amazing £106,726 – more on this later – but all 20 received over £16,000 in compensation: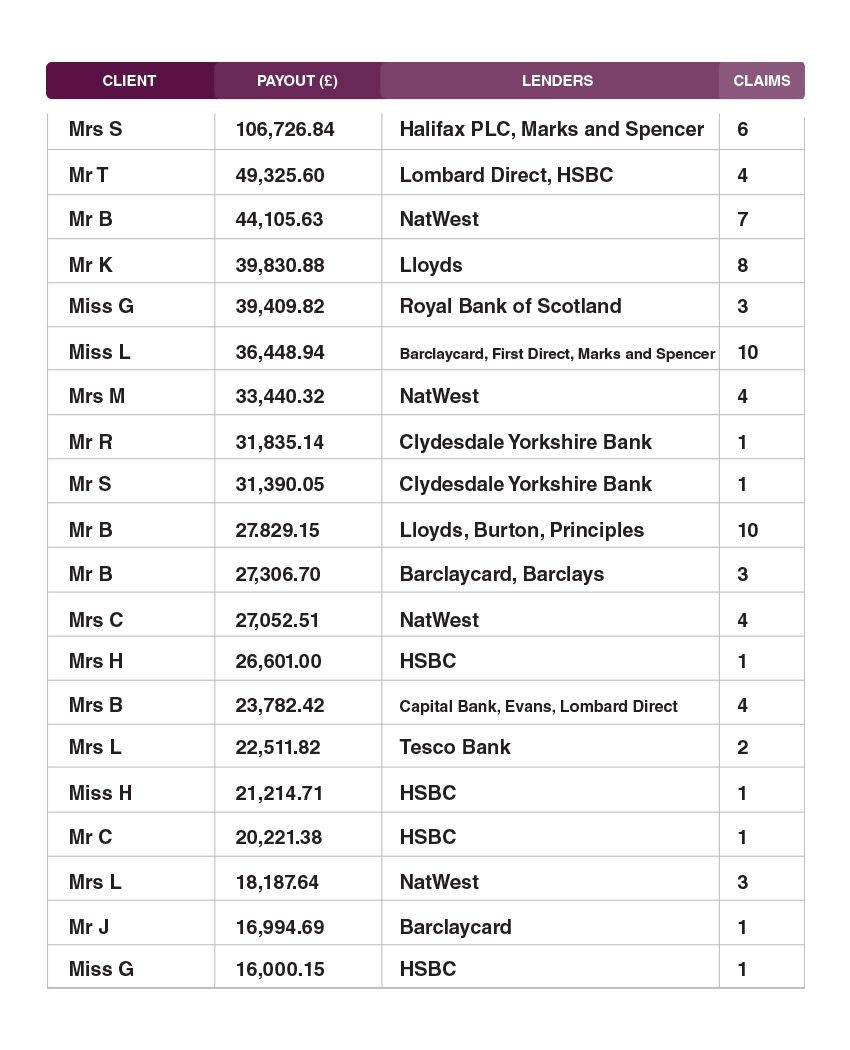 Many of the larger payouts come from claims on credit cards or store cards which have had PPI attached to them for years.
Compensation on loans is calculated on the premiums paid on a single transaction when the loan is taken out, but PPI on credit and store cards is calculated monthly on the residual balance held on the card.
If you were in the habit of carrying a high balance over each month you could well have been charged thousands in PPI premiums.
Record payout
The all time record payout to a Gladstone Brookes client for a single claim went to Mrs Janice Smith and was achieved because of her persistence and her belief that she had been mis-sold.
She knew she had PPI attached to three loans from Marks & Spencer and put in a claim for mis-selling herself, but M&S rejected the claim saying she knew what she had signed up for so no compensation was payable.
Janice wasn't happy with the response and asked Gladstone Brookes to make another claim on her behalf and was 'gob-smacked' when all three cases were upheld and she received a cheque for £3,545.59±
But that was far from the end of matters.
GB's research into which of her credit agreements had PPI attached turned up two more loans and a credit card with Halifax. The lender admitted PPI had been mis-sold on all three agreements and paid Janice another £8,610.50± for the two loans.
Then came the blockbuster news that Halifax were going to pay her £94,570.65± on her credit card claim – the biggest amount ever paid out on a single GB claim.
Said Janice: "I couldn't believe it. I had no idea just how much was owed to me and if it hadn't been for Gladstone Brookes I would never have even made a claim.
I had asked them to look into the Marks & Spencer's loans and it was they who found the Halifax cases for me.
"When I opened the letter I was wavering between feeling sick and going into hysteria. Gob-smacked didn't come anywhere near covering it this time."
Deadline countdown
The countdown to August's PPI claims deadline continues, but research done by the Professional Financial Claims Association (PFCA) has revealed that 'consumers remain blind to the deadline, despite the efforts of the FCA Arnie campaign'.
Announcing the reasoning behind the deadline the FCA said: "The FCA now considers there is a case for intervening further in PPI and that introducing a deadline and running a communications campaign would:
Prompt many customers who want to complain, but have not yet done so, into action, resulting in them potentially getting redress sooner and giving some of them the opportunity to pay off costly debt.
Bring the PPI issue to an orderly conclusion, reducing the uncertainty for firms about long term PPI liabilities and helping rebuild public trust in the retail financial sector."
The consumer awareness campaign supposed to get the message across to ditherers that action needed to be taken quickly or they might lose the chance to get back any money they could rightfully be owed.
But research conducted for the PFCA by Populus has shown that, although the number of claims being made has increased, half the adults spoken to were unaware that there was a deadline in place.
Time is fast running out for the FCA to get its message across.