As the PPI Claims deadline countdown clock shows less than three full months our clients are still receiving life-changing amounts of compensation for mis-sold PPI.
The grand total for all 20 this month was £608,473.69± with top spot going to a lady who received £55,254.47. from just two claims, one for a Halifax credit card and the other for a Marks & Spencer store card.
Successful claims
One gentleman had no fewer than 14 successful claims against Lloyds Bank and MBNA for a total of £46,783.25±, but more than half of our successful clients received thousands of pounds from just a single claim against their lender on a credit card.
Each of these successful clients made their claims after the PPI deadline was announced and thousands more continue to do so.
More money set aside
The rate at which consumers are making claims has been underestimated by the banks who are having to increase their PPI provision by millions of pounds to make sure they will be able to pay everyone who has a valid claim.
Lloyds Banking Group, which also includes Halifax and Bank Of Scotland, has just added £100 million to their pot and CYBG – the former Clydesdale-Yorkshire Bank – added £30 million of their own.
Total payout
The banking industry has paid a total of £34.9 billion in compensation since January 2011 and continue to pay an average of more than £360 million a month.
Experts are now suggesting the total bill could be as high as £40 billion, but time is running out to make a claim if you believe you have been mis-sold PPI in the past. The absolute deadline is midnight on August 29th and if you haven't registered your claim by then you will have lost the chance forever.
The Top 20
Our Top 20 for May were: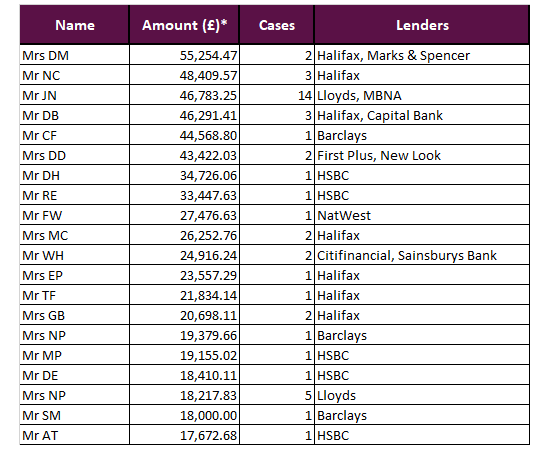 ±Prior to deduction of fees and tax