Do you have a hoard of the old 'round pounds' which ceased to be legal tender October 2017?
An astonishing 145 million of the coins have vanished into thin air after the bulk of the 1.7 billion in circulation in March 2017 were handed in during the six-month transition period to the new 12-sided coin.
£24 million
A spokesman for the Royal Mint said that £24 million had been handed in over the last year, adding: "Our communications campaign encouraged the return of old £1 coins when legal tender was removed.
"The small proportion of coins not returned can continue to be deposited into a customer's account at most high street banks in the UK."
Most banks will take them over the counter, but they can no longer be spent to buy goods.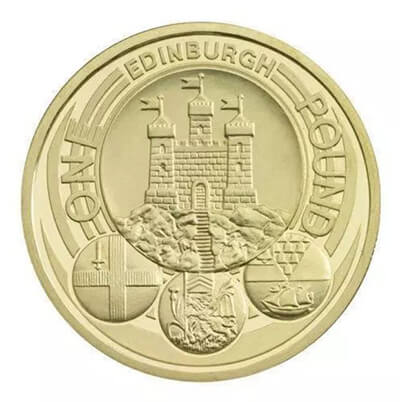 The 2011 Edinburgh coin which can be worth as much as £37 in mint condition
Stash
But before you raid your stash under the bed and hand them over to your bank have a careful check of what you've got because some variants of the coin are worth considerably more than just £1.
They were issued in limited numbers, making them more valuable to collectors.
The most valuable is the Edinburgh pound minted in 2011 which is now worth £37 if it was uncirculated and £16 if it is worn. Less than a million of the coins with a castle pictured on the front were minted.
Welsh dragon
The second most valuable is the Cardiff coin, featuring a Welsh dragon, which was also minted in 2011.
But it is worth considerably less than its Scottish cousin – just £5.55.
Third in line is the London variant of the same coin featuring an English flag. It is worth £4.
Counterfeit
The round pound was replaced by the current version because it was too easy to counterfeit.
According to the Royal Mint, 1 in 30 round pounds in circulation before March 2017 was fake.
As they have been gathered in both real and fake have been melted down to provide the raw material for the new version.
Most secure
The new 12-sided version has been described as 'the most secure in the world' with a number of anti-counterfeiting details like a hologram and micro-sized lettering inside both rims.
It also has a material inside which allows it to be detected by either coin counting or payment machines.
If you don't have a stash under the bed there are a number of other places you might find one:
Down the back of the sofa
In your big night out handbag
Winter coat pocket
The loose change drawer in your house
Child's piggy bank
Car glove box
Buried in the bottom of your gym bag