Thousands of Nationwide customers are to share in a £6 million rebate of overdraft charges because of an oversight by the building society.
Customers are supposed to receive a texted warning before they incur any charges for an unarranged overdraft.
Cash
But 320,000 Nationwide customers never got the text alert and now stand to receive back the cash they were charged.
The firm are also dealing with a separate technical error which has led to some payments being taken twice.
Broken the rules
The Competition and Markets Authority (CMA) reported the building society had broken the text alert rules 20 times since February of last year.
The warnings are meant to give customers time to take action and prevent unexpected overdraft charges on their accounts.
The CMA said that in the majority of cases complained of Nationwide had not made it clear that customers could end up being charged if they didn't take action.
A matter of urgency
Spokesman Adam Land said: "Nationwide failed to do this on numerous occasions and our action today makes it clear they must fix this as a matter of urgency.
It is imperative that these problems are sorted out immediately and that they don't occur again."
A spokesman for the firm said: "Nationwide has sent over 19 million alerts since the rules were introduced.
We have engaged proactively with the CMA to review these incidents, which were first reported to them in 2018 and the wording was corrected in November 2018.
Additional controls
We have implemented improvements and additional controls to ensure this does not happen again. These controls are currently being reviewed by independent third parties.
"As an organisation that prides itself on service, we apologise for these incidents and any inconvenience caused.
We have started the process for refunding members and will ensure no one is left out of pocket."
Tweets
Customers vented their anger on social media and Nationwide tweeted their response.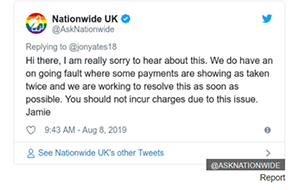 Payment problems
The payment problems came to light after customers complained their accounts showed a lower balance than they thought they should have.
In some cases online payments had been refused because there was apparently not enough money in the account to complete the transaction.
One customer was shown as being £2,000 overdrawn. She had been trying to pay for a £2,000 holiday online and the system appeared to take the payment twice.
Problem
A spokesman said: "We identified a problem that meant the available balance on some member accounts appeared lower than they should, due to some payments still showing as pending.
"This was corrected overnight and everything is now working normally.
We apologise to those members affected and can assure them that they won't incur any charges as a result of this issue."