As tens of thousands of consumers rush to beat the PPI deadline, a new report claims the true cost of the scandal has already hit £48.5 billion and is continuing to grow.
Official figures from the Financial Conduct Authority (FCA) show that more than £36 billion has been paid out in compensation since January 2011.
True figure
But respected think tank New City Agenda says the true figure is close to £48.5 billion when claim processing costs are taken into account.
In an overall report on banking scandals it said that between 2000 and 2014 British lenders set aside £38.5 billion to pay compensation to customers.
This figure represented £1 in every £4 of pre-tax profits being set aside to pay redress and the associated administrative costs – more than five times the cost of the London 2012 Olympics.
Hopeless
It commented: "Banks have proved hopeless at estimating the total cost of their misconduct – with some increasing their PPI redress provisions 20 times over the past 8 years.
Legitimate complaints have been rejected and banks have delayed writing to customers, meaning that the scandal has taken years to be resolved and cost billions in administrative costs."
The Financial Services Authority (forerunner of the FCA) calculated that between 1996 and 2012 British lenders sold more than £44 billion worth of PPI policies, accounting for over a third of their profits in the years it was sold.
Total profits on the policies were estimated to be at least £21 billion.
Top 10 costs
The top 10 firms and their shares of the £48.5 billion total are listed as: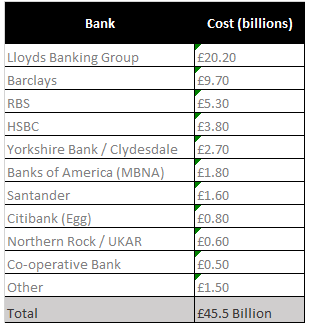 Misconduct
But PPI isn't the only misconduct issue Britain's Banks have had to deal with over the last 20 years.
It is the largest by far – more than 10 times the cost of the next largest – but is still only a fraction of New City Agenda's estimated total of £67.4 billion.
In order they are: