In the run-up to the deadline we continued to recover hundreds of thousands of pounds for our clients with the Top 20 payments totalling a massive £703,360.22.
Top payout was £77,597.19± to a Kent man with successful claims against HFC, Marks & Spencer and Halifax.
An even dozen were paid out on single claims, the highest being a Scottish man who received £59,048.65± after Royal Bank Of Scotland (RBS) admitted mis-selling the PPI on his credit card.
Total payout
The overall payout for PPI has now topped £36 billion – a total continuing to rise at a rate of £⅓ billion a month – and expected to soar even higher after the banks were swamped by last minute calls to beat the August 29th claims deadline.
Websites crashed under a deluge of attempts to register before midnight on the last day and consumers took to social media to complain about having to wait hours to try to register their claim by phone.
Millions of claims
It's not known how many millions managed to beat the deadline, but with claims taking weeks to get a final decision under normal circumstances it's anticipated it will be well into the New Year before the final payout is known.
Research from think tank New City Agenda has calculated it could be at least £48.5± billion, but other sources have claimed it could top £50 billion.
The Top 20
GB's top 20 payouts for August were: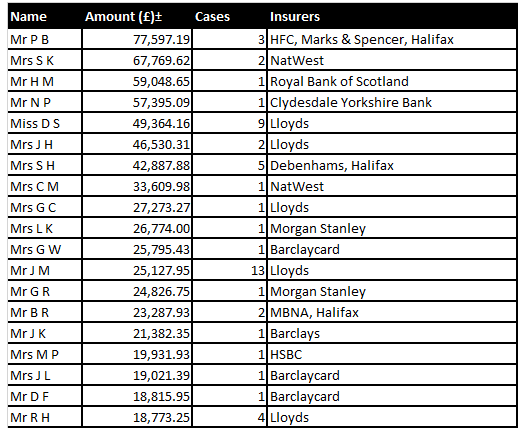 ± prior to fees and taxes