Over – It's only just begun
For those who thought the PPI scandal was over once we passed the deadline it didn't take long to realise that in some ways it's only just begun.
Within days of the deadline passing Britain's lenders were admitting they may have underestimated the size of the problem and added more than £4.9 billion to the pots they have set aside to pay successful claimants.
Lloyds Banking Group (LBG) led the way with a massive £1.8 billion, but others soon followed suit. The full list is: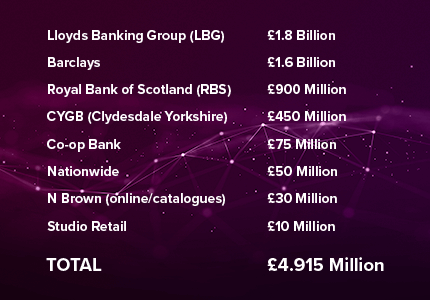 ---
The official FCA figure for the total payout since January 2011 rose to £36.4 billion after the monthly figure from June of £340.3 million jumped by almost £100 million when it emerged that the payout for July was £432.9 million, the highest it has been since March 2016.
---
As the size of payouts rose commentators were starting to ask how the banks had got their figures so wrong.
When the scandal first came to public attention in 2007 the Financial Services Authority (FSA) estimated the whole episode could cost as much as £3-4 billion.
Over a decade later more than £36 billion has already been paid out with experts predicting the total bill could top £53 billion.
City AM finance writer Neil Wilson commented: "The end is in sight for banks and PPI claims, but what's been made abundantly clear is just how badly they estimated the losses. These are not abstract losses or mere balance sheet adjustments – these payments gnaw away at profits and shareholder returns.
"The truth is banks have consistently and systematically failed to account properly for PPI claims.
Shareholders should be banging down the board room doors and demanding the heads of those responsible."
---
The sharp rise in new claims as consumers tried to beat the deadline cause the Financial Ombudsman Service (FOS) to suspend its plans for streamlining the organisation for six months.
It had previously announced its intention to reduce its workforce because two thirds had been employed purely to handle PPI appeals. However, the plan was scuppered when the huge rise in complaints became apparent from which it could anticipate many more appeals.
---
The taxman looked set for a windfall when the Official Receiver lodged a mass of claims with lenders across the board for PPI redress which might be paid to bankrupts.
It is the receiver's duty to obtain as much money as possible to repay a bankrupt's creditors among which could be HM Revenue and Customs (HMRC) who may be owed back taxes.
No-one has put a figure on how much money might be involved, but it is known that the number of claims made has been 'substantial'.