Our penultimate charity of the month for 2019 is the mental health charity MIND, nominated by Nikki Glover who is currently on maternity leave, but told us before she went that she has known people suffering from mental health issues and wanted to support the charity that helped them.
Accepting our cheque for £400, Kayleigh Hancox said: "I manage our charity shop in Stockton Heath because we need every penny we can get to help provide the advice and support for anyone experiencing a mental health problem.
I can't thank Gladstone Brookes enough for such a generous gift and can assure you it will be put to good use."
One in three
One in three people will suffer a mental health problem in their lifetime. It could be something as simple as temporary stress brought on by working conditions nor a difficult home life, through to depression and ultimately the desire to commit suicide and the mind set to carry it out.
Said Kayleigh: "MIND wants to ensure the people who need support in understanding their condition get it and then receive the help they need to educate them about the resources available and help them move forward.
Donations such as this from Gladstone Brookes help us to raise awareness of mental health in society."
A year of giving
The £400 donation to MIND almost brings to an end a year of giving for the company with another group of charities all benefiting from donations raised by dress down money contributed by members of staff who also nominate which charities will get a payout.
Other donations this year were: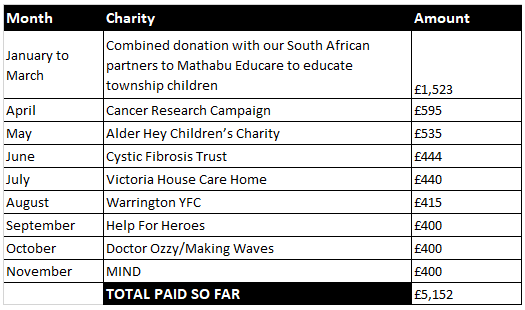 Our final charity for 2019 will be the now traditional trolley dash around Smyths Toy Superstore to buy £1,000 worth of toys for underprivileged children at Christmas.