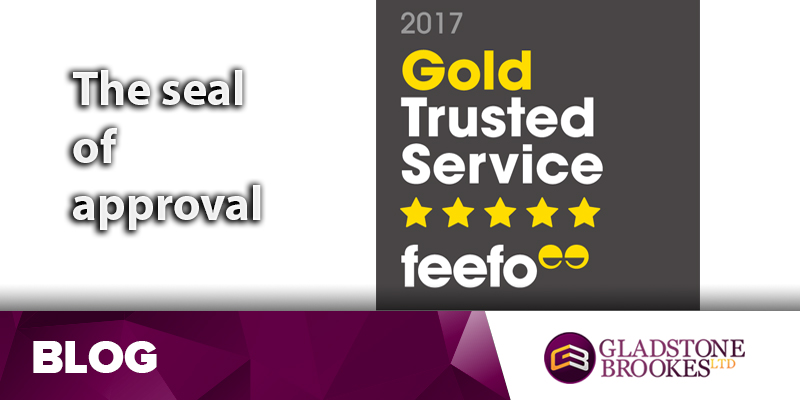 Gladstone Brookes has received the prestigious Feefo Gold Trusted Service Award for 2017.
It has been granted as an independent seal of excellence voted for by real customers.
Honour
General manager Jason Moore commented: "It's a real honour to receive this award from Feefo. To be recognised by our customers for delivering exceptional service is a great achievement.
"We've worked very hard over the last 10 years to make Gladstone Brookes a leading figure in the Claims Management industry and we will strive to offer the best customer service in the years ahead".
£775 million±
In the past decade Gladstone Brookes has built up a solid reputation has recovered more than £775 million± in mis-sold PPI premiums in more than 470,000 cases.
Our success rate on cases with PPI is 94%‡.
Service
The service we aim to provide is:
To recover 100% of any premiums that you have paid on a mis-sold policy
To recover any interest paid on those premiums
Where possible, obtain a further 8% in simple interest
To complete the case in an average of 8-16 weeks from the date the claim is acknowledged by the lender
As one of the leading operators and authorities on the mis-selling of PPI, we operate with integrity, strictly adhering to the terms of The Gladstone Brookes Promise:
Gladstone Brookes has never cold called clients – and never will
Only customers who respond to our ads or reach out to us first will ever get a call
At Gladstone Brookes we never withhold our number
We will always state it's us calling
Gladstone Brookes offer a no-win-no-fee† service
If your claim is unsuccessful, you won't be charged a penny
Gladstone Brookes don't charge up-front fees
Our customers will not be subject to a one-off fee to initiate their claim
Gladstone Brookes never pass on your details without asking
We will never pass on our customers' details to a third party without their permission
Award
Feefo describe the Gold Trusted Service Award as "an independent seal of excellence that recognises businesses for delivering exceptional experiences."
"Trusted Service is awarded to businesses that use Feefo to collect genuine ratings and reviews. A badge of honour, this accreditation remains unique as all the awards are based purely on the interactions with verified customers. This feedback has been collated by the Feefo review platform, with the accolades being awarded based upon performance.
"To achieve the Gold Award, Gladstone Brookes met the criteria of collecting at least 50 reviews between January 1st 2016 and December 31st 2016, and achieved a Feefo service rating of between 4.5 and 5.0."
Congratulations
Andrew Mabbutt, CEO at Feefo, says: "We would like to offer our congratulations to all the winners of this year's Feefo Trusted Service award. We are so proud that so many businesses are putting customer service first.
"We have been working closely with all our customers to build trust and transparency online, and ultimately helping shoppers buy with confidence and make better decisions."
Genuine
Feefo is a ratings and reviews, and customer analytics platform. A spokesman said: "We collect genuine, purchase-verified reviews on behalf of over 3,000 businesses. Feefo ensures that all feedback is authentic, by matching it to a legitimate transaction.
We believe this is the best way to combat the rising issue of fake reviews.
± Refunds obtained through our claims service, amount is prior to fees of 25%, VAT and any income tax.
‡ Success rate applies only on cases with PPI attached
† No Win, No Fee – Charges may be raised if you cancel your claim after the 14 day cool off period.