About Gladstone Brookes
---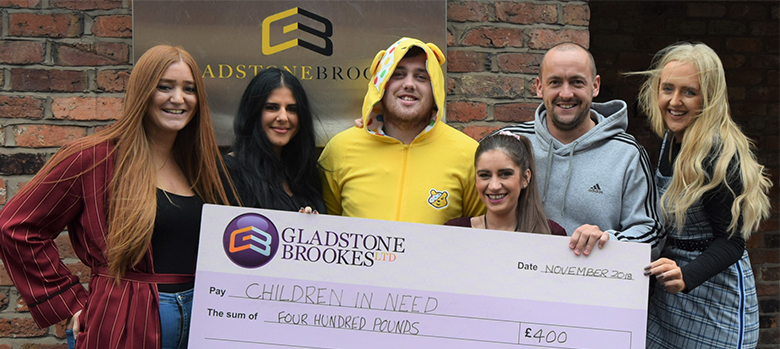 Gladstone Brookes is a PPI claims company based in Warrington, Cheshire. Since beginning our operations in 2007, we have had incredible success in reclaiming mis-sold payment protection insurance for our customers, with over £1 Billion (prior to fees and taxes) recovered by Gladstone Brookes so far.
Because we're in the business of helping people get back the money they are owed, there is always a positive atmosphere throughout the company – we enjoy what we do. This is partly down to the large number of people we help every single day and partly because of the volume of clients that are happy with the positive service we consistently provide. There is no bigger reward than customer satisfaction.
Taking small steps to a brighter future
As well as helping our customers to recover money they are owed, Gladstone Brookes continually work with a range of charities in the local community. We believe in helping those less fortunate than ourselves and strive to improve the lives of as many people as we can possibly help. We feel that by working together with charities and the local community, we can make a bigger impact together.
Find out more about our ongoing work with the local community on our Charity page.
We also have more detailed information about our charity work in the charity section of our blog.
Our Promise to You
Gladstone Brookes have never & will never cold call anyone. Our clients come to us after seeing us advertised on television, in newspapers, hearing us on the radio, word of mouth or finding our website through search engines. Gladstone Brookes promise to never cold call to obtain clients and are strongly against cold calling as a practice.
We always confirm we are calling from Gladstone Brookes and we never withhold our number. Click here to read more about Our Promise.
PFCA Founder Members
Gladstone Brookes is a founding member of the Professional Financial Claims Association (PFCA). Click here to read more about PFCA.
---
Frequently Asked Questions
Nervous about using a claims management company? Here are some things you should know about us and PPI claims:
Who are Gladstone Brookes?
Gladstone Brookes are a financial claims management company specialising in the reclamation of mis-sold PPI. Since 2007 we have recovered more than £1 Billion (refunds obtained through our claims service, amount is prior to fees and taxes) for our clients.
How successful have you been for others?
Well, you could take a look at our testimonials. They show our success with all of the big UK banks – Lloyds, Barclays, Halifax, HSBC and a wide variety of other lenders. We have years of experience claiming back from these institutions, which we do with a 91% success rate (based on a 24 months' worth of data from January 2016 to December 2017. Success rate applies only on cases with PPI).
Why Choose Us?
Reclaimed for clients
£1 Billion+
Total refunds obtained through our claims service, amount is prior to fees and taxes.
---
Successful
91%
Our success rate for PPI claims with clients currently stands at 91%, based on 30 months' worth of data from July 2016 to December 2018. Success rate applies only on cases with PPI.
Opening Hours
Monday:
Tuesday:
Wednesday:
Thursday:
Friday:
Saturday:
Sunday:
8:30am – 8:00pm
8:30am – 8:00pm
8:30am – 8:00pm
8:30am – 8:00pm
8:30am – 5:00pm
9:00am – 3:00pm
Closed