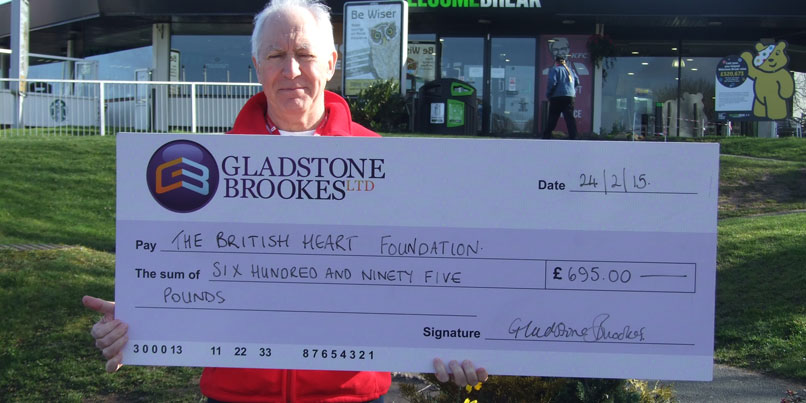 Cancer is a word that strikes fear into everybody's heart, but the biggest killer in the UK is disease affecting the heart itself.
The British Heart Foundation says a staggering one in three deaths in Britain is caused by heart or circulatory disease and 2.6 million people are living with either or both conditions on a daily basis.
Fund raising
The Foundation was GB's charity of the month for February and local fund-raising representative Chris Connor was the man who picked up our cheque for £695.
Said Chris: "This is the second year in a row Gladstone Brookes have chosen the Foundation and we are very grateful for your support. A lot of heart disease is preventable and last year the Foundation spent £115.5 million on research which is funded by kind donations like the one you have made today.
Milestones
"We're the biggest independent funder of heart research in the UK and have some notable milestones under our belt in the 54 years we have been around like pacemakers, statins and clot-busting drugs.
"Your donation will be going towards our Mending Broken Hearts Appeal, which is currently standing at £8 million.  We want to find a cure for heart failure which will give hope to millions of people world-wide, not just in the UK," he added.
Frightening figure
Today 480 people will be admitted to hospital with a heart attack – a frightening figure.  However, because of advances in medical science, seven out of ten will survive and go home.
Simon Gillespie, the Foundation's chief executive says: "In 1961 when the Foundation began that would have been unthinkable.  In those days the odds of survival, let alone recovery, from a heart attack were poor.
"Your money helps us to fund hundreds of top scientists all over the UK, working on more than a thousand different research projects.  They are all fighting to help heart patients by finding new and better treatments for heart and circulatory disease as well as developing new ways to better prevent or diagnose it," he said.
Local
Chris Connor added: "Fund raising on a local level, like your contribution, is vitally important to the work we do. Without it we simply would not have been able to achieve half of what we have.  Thank you very much for what you've done. It is sincerely appreciated."