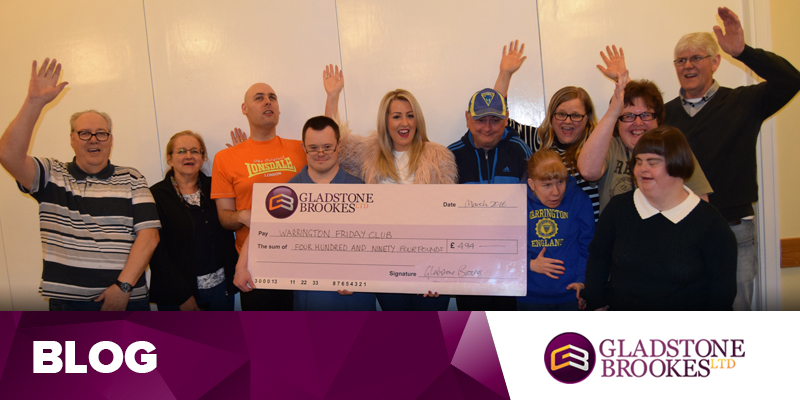 Charity of the month for March is the Warrington Friday Club which has spent the last 43 years supporting local adults with learning difficulties through the hard work and selfless attitude of its volunteer organisers.
They were nominated for our support by Kerry Brazendale whose older sister, Claire, is a long term club member.
To give something back
Said Kerry: "I nominated them as my chance to give something back to a brilliant group of people because they have given so much to Claire and the rest of our family."
Group leader Cathy McCormick said: "We can't thank Gladstone Brookes enough for your generosity in helping us out.  We receive no outside funding whatsoever and have survived for the last 43 years on whatever we have been able to raise ourselves and the goodwill of our volunteers who give us their time free of charge, despite many having full time jobs and other responsibilities of their own."
Safe environment
The club was established to offer a safe environment for people with a range of learning difficulties and other disabilities to mix with friends and enjoy new activities.  It offers them the chance of social interaction which they would not necessarily get anywhere else.
Members are asked to pay £3 a week in subs to cover the day to day running of the club. Under the guidance of the volunteers, a typical Friday night might include:
Having a cup of tea and snack with friends
Playing snooker, table tennis, air hockey or table football
Enjoying a jigsaw or board game
Helping to choose the music for the evening with one of the members acting as resident DJ
Having a go at baking, or a craft activity, planned by volunteers
Celebrating a cultural festival, national event or holiday with an activity or food i.e. Christmas and Easter, Chinese New Year, the World Cup or the Queen's Jubilee in 2012 when they had their own 'street party'
Try something new like art sessions, cake decorating, jewellery making, aerobics and African drumming with the expertise of an external facilitator
Outings
The group also enjoys regular outings and this is what our £494 donation is most likely to be spent on.
Said Cathy: "This donation is fabulous because it sorts us out with a visit to a rugby match, or the theatre, both of which we have done before, along with watching a soccer match, wrestling at the Parr Hall or an evening's bowling.  It's brilliant."