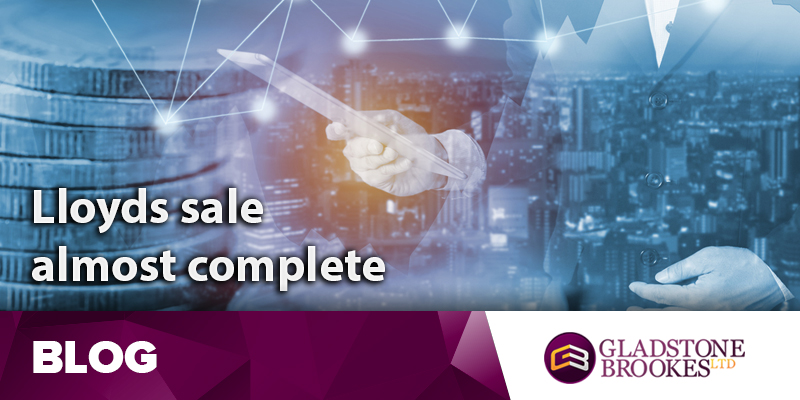 Lloyds Bank is on the brink of re-privatisation as taxpayers' stake dips below 3%.
Nine years after being bailed out by the government for £20.3 billion at the height of the financial crisis, analysts believe the final sell off could be made within months.
Recovery
In 2008, the Labour government bought 43% of the bank's shares.  That shareholding has now been reduced to 2.95% with the latest sale and signals the recovery of £19.5 billion of the cash used to bail it out.
Simon Kirkby, Economic Secretary to The Treasury, said: "Lloyds' recent annual results show that we are in a good position to reduce our shareholding further and expect to recover all of the money taxpayers injected into the bank during the financial crisis."
Suspended
Sale of the shares was suspended in October last year because of 'market turbulence', but in January UK Financial Investments, which manages the taxpayers' stake in the bank, announced that Blackrock – the world's biggest asset manager – was now the largest Lloyds shareholder.
Commenting on the latest share sale, Lloyd's boss Antonio Horta-Orsorio said: "Today's announcement moves Lloyds another step closer to full private ownership, and we are pleased that the group's strong financial performance has kept us on track to return more money to taxpayers than was put in."
Finishing line
Senior analyst from Hargreaves Lansdown, Leith Khalaf, said: "The finish line is now within sight for the UK taxpayer, who can look forward to recovering all the money pumped into Lloyds during the financial crisis.
"For the Treasury, the elephant in the room is, of course, Royal Bank of Scotland, which soaked up £45.5bn of taxpayer funding during the financial crisis, more than twice the sum needed to prop Lloyds up."
Journey
Royal Bank Of Scotland (RBS) was bailed out at the same time as Lloyds, but its journey since has been very different.
In August 2015 the Treasury tried to start the re-privatisation process by selling 600 million shares, but they ended up being sold at a £1 billion loss.  Then last summer Chancellor of the Exchequer George Osborne suspended further sales because of 'stock market turmoil.'
Problems
Problems with the sale of the bank's Williams & Glyn brand to comply with EU regulations may have been averted with a plan for RBS to offer £750 million of initiatives to boost UK challenger banks as part of a four point plan.
However, new Chancellor Philip Hammond will not resume share sales until potential multi billion pound legal actions over mortgage backed securities in America are resolved.