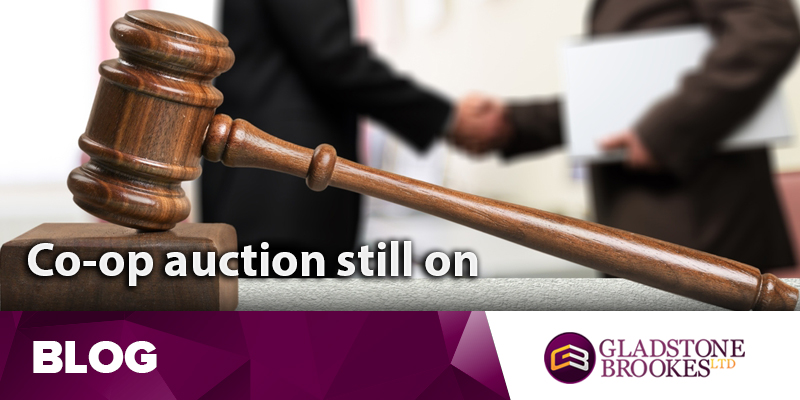 Takeover talks are continuing for the troubled Co-operative Bank and a number of new bidders have entered the auction process.
The sale was thrown into doubt last week when the Co-operative Group slashed the value of its 20% holding in the Manchester based lender to zero.
Pulled out
Two of the potential buyers – Santander and TSB – had previously pulled out of the process, claiming the Co-op was not a good fit for their future development plans.
But in a new statement the Co-op says it has received a number of approaches from other potential bidders and is talking to them while continuing negotiations with other interested parties.
CYBG (the former Clydesdale Yorkshire Bank) and Virgin Money are believed to be among those interested.
Hope
Hope of a rescue bid seemed to be failing last week after the bank announced a £477 million loss for 2016.
The news prompted the Co-operative Group to slash the value of their remaining 20% stake, saying it was 'a prudent valuation' based on the 'volatility' surrounding the sale.
Statement
But in a new statement the bank says it is continuing to talk to previously selected parties and has received fresh interest from new potential bidders.
It said 'a number of non-binding proposals' had been received, but would not give any further details.
Raising capital
Some of the talks are believed to be centred around the raising of enough capital to satisfy the Bank Of England which has placed the Co-op under 'intense supervision' after it came up £550 million short of an agreed capital target in January.
The Prudent Regulation Authority (PRA) division of the Bank Of England 'has welcomed the actions being taken.'
Troubled
The Co-op Bank – which has around 4 million customers – has had a troubled few years since a £1.5 billion 'black hole' was found in its balance sheet in 2013 when it failed to buy TSB from Lloyds Banking Group (LBG).
It was rescued from collapse by a consortium of investors, led by American hedge funds, who pumped £2 billion into the business to keep it afloat.
Warning
It now seems some if not all of that money may be lost as the Co-op has issued a warning to its investors that they will have to take some kind of hit for the sale to be successful.
It said: "Each of the preliminary offers selected includes some form of liability management exercise."  This is believed to be a signal that the bidders have been proposing either a debt-for-equity swap or imposing losses on debt-holders as a condition of the sale.
Safe
If both rescue plans fail, the Bank Of England will be forced to step in to start a 'resolution process' which would wind up the Co-op's affairs in an orderly manner.  Observers feel that such a move would see the most attractive pats of the business sold off piecemeal.
But Co-op customers need not fear for their money as current accounts, personal loans and mortgages would be taken on by another bank if necessary and sums of up to £85,000 are guaranteed by the Financial Services Compensation Scheme (FSCS).