With just six months to go before the PPI deadline on August 29th, millions of potential claims remain to be made with banks setting aside billions of pounds to cover potential pay-outs.
But, for whatever reason, it seems people can't be bothered to start the process and run the risk of a possible claim being time-barred.
Hassle
For some it could be not having any paperwork or not wanting to go through what they see as a load of hassle just to get back a few pounds.
The Financial Conduct Authority (FCA) say the average payout for a successful PPI claim is £1,700 and actual payouts vary widely, from just a few pounds to tens of thousands.
The main point is that you can only get back what you have paid in, plus interest, if you were mis-sold your PPI policy.
Loans
PPI paid on a loan is calculated on the amount of the loan so any compensation would be the amount of premiums paid, plus the interest that money would have earned.
Small loans may have correspondingly small redress payments, but larger loans could pay out correspondingly larger sums.
Different
Credit and store cards are different.
PPI premiums on such cards are based on the residual balance each month. If you are in the habit of paying your card off each month then you will not pay any PPI premiums, even if PPI is attached to the agreement, and will therefore have nothing to claim.
But there are some people who have their cards maxed out for years and PPI is paid monthly on that high balance. People like Janice Smith who recently had a successful claim against Halifax for her credit card and ended up with £94,570.65± compensation.
Successful claims for two loans she had with the same lender paid out a total of £8,610.50±.
Terribly sorry
Commenting on her success she said: "I feel terribly sorry for people who haven't pursued making a claim – either because they don't understand or because they're nervous. There must be millions out there in the same boat."
The FCA are running a consumer awareness campaign, headed by an animatronic Arnie Schwarzenegger who urges consumers to make a decision on PPI and 'do it now' in order to beat the deadline.
Top 20 payouts
Gladstone Brookes' top 20 payouts for February all started their claims after Arnie launched his message: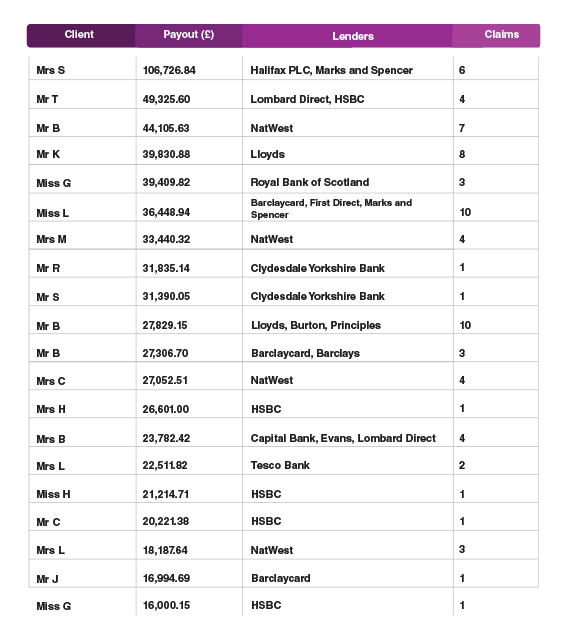 Could you be owed money too?
If you took out a loan, credit card, store card, mortgage, overdraft or mail order catalogue account over the last three decades you may well have had PPI attached to it.
Exemption clauses
Many people were sold the insurance even if they didn't want it, need it or ask for it. For many people they would not have been able to make a claim if they needed to because of exemption clauses or they may have been covered by excellent sickness benefits at work. Shockingly, PPI policies were also added to credit agreements after the deal without their knowledge or consent.
If any of those issues applies to you then you may well have been mis-sold and be eligible for compensation. For a full list of potential mis-selling points see here
Already paid
Figures released by the FCA show that UK lenders have already paid out £33.8 billion in PPI compensation since January 2011 and the banks have set aside billions more to pay any successful claims between now and the August deadline.
Banking figures have revealed they're still receiving thousands of new claims a week from people intent on beating the deadline. If you want to make your own claim for possible mis-selling you must do it before August 29th or lose the right forever.