This month's Top 20 payouts from Gladstone Brookes are good examples of how much money is payable on just a single claim with no fewer than 9 out of 20 receiving compensation on a single policy.
⚠️ With the PPI Deadline less than a year away, now would be the perfect time to check!
The overall total for March was just over half a million pounds – £562,430.30: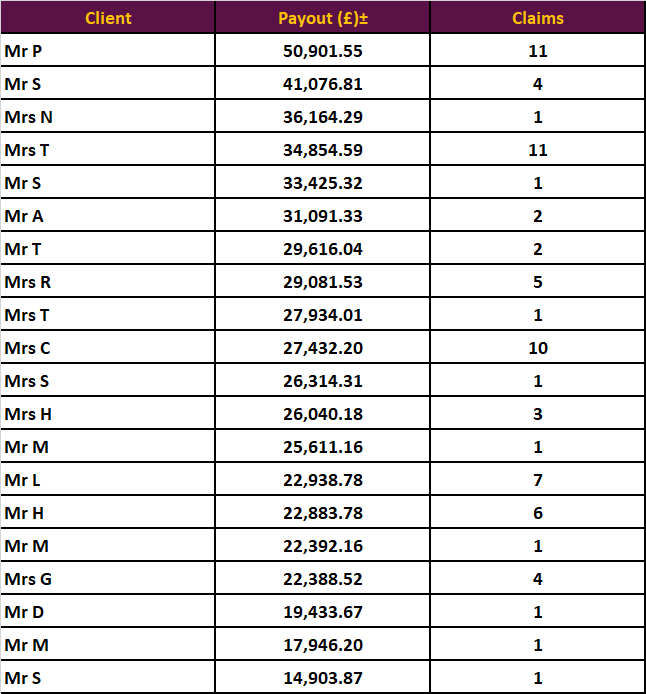 ± All redress amounts quoted are prior to fees and taxes
Third on the list was a payment of £36,164.29± on a lady's JD Williams catalogue account. Another lady received £26,314.31± for her JD Williams claim.
Six of the remaining seven single policies were all credit card accounts. Clydesdale/Yorkshire paid out £33,425.32± and there were two successful claims against Halifax for £27,934.01± and £25,611.16±.
Lloyds also paid out twice – £22,392.16± and £19,433.67± – and MBNA topped off the list with a cheque for £17,946.20±.
Calculated monthly
The way PPI is charged on credit cards, store cards and catalogue accounts differs from the one-off calculation on a loan.
The premiums payable on a loan are calculated at the point of sale and don't vary, but card and catalogue payments are calculated monthly and are based on the residual balance on the account.
PPI could be attached to an account, but if you're in the habit of paying it off as soon as your monthly bill comes in then you won't pay any PPI premiums.
But carrying a big balance on your account means you will be charged a monthly fee plus interest which grows monthly.
If you have held the account for a long time and maintained a big balance then the amount of redress payable if it is found the policy was mis-sold could run into many thousands as has been the case for our successful clients in March.
GB's record single payout
Our record payout on a single claim is currently held by Mrs Janice Smith who received a staggering £94,570.65± for a claim on a Halifax credit card she has held for decades and she hadn't even been aware the money was owed to her.
The policy was found through a Free PPI Check** which showed she had PPI attached to the card and two loans. Halifax agreed all three policies had been mis-sold and paid £3,545.59± on the two loans – a figure dwarfed by her credit card payout.
Unbelievable
Commenting on her claim Janice said: "The figures are unbelievable and I cannot thank Gladstone Brookes enough for all they have done for me.
There is no way I could ever have recovered this amount of money on my own. I wouldn't have known where to start.
"I feel terribly sorry for people who haven't pursued making a claim – either because they don't understand or because they're nervous. There must be millions out there in the same boat."