Well, that's it! The PPI saga is over and done with as the much-heralded deadline passes into history.
But is it really over?
Not over for some months yet
No – it won't be over for some months yet while the banks catch up on the millions of last minute complaints which flooded in with a possible £10 billion still available for successful claims.
And it would appear the deadline is not completely dead as claims for mis-selling can still be made through the courts, using a solicitor.
Direct
They can no longer be made direct by an individual or through a claims management company (CMC), using what is called a non-contentious approach which does not involve legal action.
But if a consumer believes they have a strong enough case – like being charged excessive commission on the sale of their policy under the Plevin ruling – then they still have the right to pursue the lender through the courts to get their money back.
How many?
It will take some time before we know just how many people left it until the last minute to make a claim, but it is understood the banks have been swamped with new complaints in the final countdown phase.
Lloyds Banking Group (LBG) said they were receiving 190,000 inquiries a week and both they and HSBC were so surprised at the volume of claims that they both added £½ billion to their compensation pots in the last few weeks. Santander added another £70 million to theirs.
So great was the last minute rush that all but one of the big High Street banks kept their phonelines open until the very last minute and drafted in extra staff to deal with the deluge of inquiries.
Total cost?
It will also take some time before we finally know how much Britain's biggest ever financial scandal has cost.
The current total payout is just over £36 billion, but research by respected think tank New City Agenda suggests that it could be as high as £48.5 billion when the administrative costs of checking all the claims is taken into account.
Another £100 million
It is understood that CYBG – the former Clydesdale-Yorkshire Bank – intend to add another £100 million to their compensation pot when they announce their latest quarter's figures in a few months' time.
Other major banks have said they will be constantly monitoring their claims levels and could possibly further increase their own provision once the final number of claims is known.
Worried customers
Consumers wanting to make a last minute online claim against NatWest were left wondering if their complaints had been received when the bank's website crashed on the final day, having also been down the previous day.
Anxious customers took to Twitter to complaint about the outage: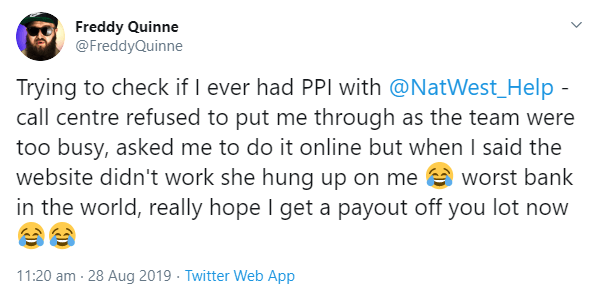 A NatWest spokesman told The Sun newspaper that claims could still be made by phone, but admitted problems had been reported using that method too.
"This may be the beginning of the end, but it's certainly not the end yet."
PPI News – Taxman hits the PPI jackpot